Khayyam exhibition
We would like to invite you to enter
7th
KHAYYAM
International Exhibition of Photography, 2019,
the Exhibition with the
patronage of FIAP & PSA.
US$ 1650!
Prize money, 130 awards and a fabulous 23X32cm catalogue book (FIAP 5 stars) for each participant is waiting!
The Exhibition has 50+ public showing around the world. The last public showing of Khayyam 2018 was on 22 August 2019 in Penza, Russia.
Last year 50.000+ people visited the exhibition.
Soon we will send you a link of the opening ceremony in the National Academy of Art in presence of FIAP President, FIAP Vice president and other officials and 300+ artists.
Our dream is to be one of the most prestigious exhibitions in the world.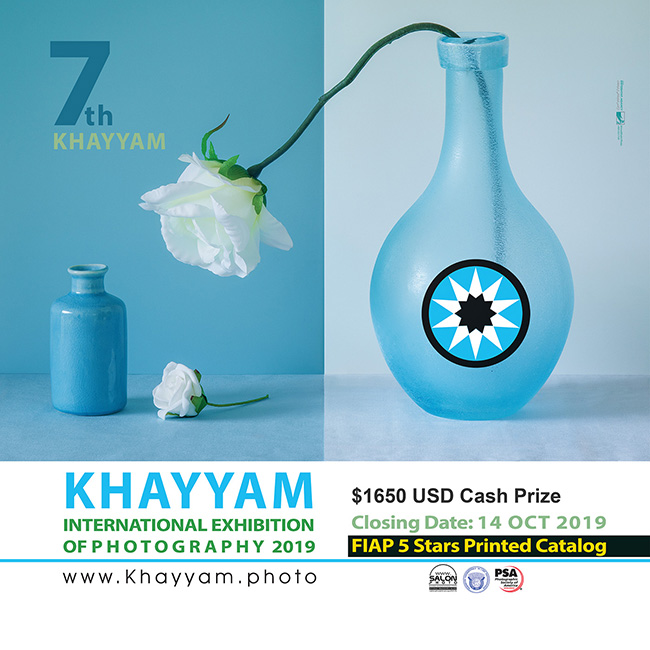 Best Author
Award
: FIAP
light

Blue Badge +

Khayyam Gold Medal
Best
Middle Eastern

Author

Award:
Khayyam Gold Medal
Closing Date
:
14 October
2019
There are 6 sections for projected images:
Open Monochrome

Open Color

City

Creative (Altered Reality)

Travel (TRAD)

People
Entrants of last exhibitions can login with their username & no need for new registration. Username:
Please click for "conditions of entry" (pdf)
Please Click For "Conditions of Entry" (Word)
If you are interested to have a public showing of winning photos of this exhibition in your country, you may contact us. We will send the prints to you. Or you may have digital projection in your city.
Group/Club Entries
Discount Rates

We look forward to receive your entries.
Please be so kind and tell your friends, your club members or some other people about this exhibition, they'll be thankful, promise!


Best Regards
7th KHAYYAM EXHIBITION, 2019